Commercial Cleaning Fort Collins CO
Colorado's Top rated
Commercial cleaning
Get the best commercial Cleaning in Fort Collins
Not every business understands the importance of image. Making a good first impression and continuing to follow through with your customer's first impression through their entire experience directly impacts your profitability. Research has indicated that you have 15 seconds to make a first impression. This allows little to no margin, for error as clients will pass judgment on your business almost immediately. We appreciate that keeping the exterior of your property consistently clean is difficult. We provide dependable and reliable teams, professionally trained, and equipped to meet all our customer's exterior cleaning needs. When your business's exterior is covered in mildew and mold, or a walkway covered with gum, it's not going to help you make a good first impression. These issues can easily be resolved with our Commercial Cleaning in Fort Collins. We can tackle all your exterior cleaning needs, Including building cleaning, gutter cleaning, window cleaning, pressure washing, no matter the issue, our team can handle all your cleaning needs.
Increase your business' curb appeal with our Fort Collins Commercial Cleaning
Allowing your building to become covered in debris, dirt, and other contaminants, makes it look worn out and old far faster than it should. What other impressions can someone form of your business other than a negative one, if you don't even value the outside of your building? Scheduling a regular Commercial Cleaning routine with a team of professionals will boost your business's curb appeal and as a result, boost your property's overall value. Our team of dedicated technicians are capable of beautifying even the most run-down premises, we don't believe in lost causes. If you're truly interested in the future of your business you have to keep your building in tip-top shape, consider commercial cleaning an investment in your future. You can either just set it and forget it, as many of our clients do by scheduling regular cleanings, or if you like we are happy to work on an on-call basis whenever you feel your property needs a little TLC. Whichever approach suits you best, our team is happy to accommodate your cleaning needs.
Our Fort Collins Commercial Cleaning Services Will Keep Your Business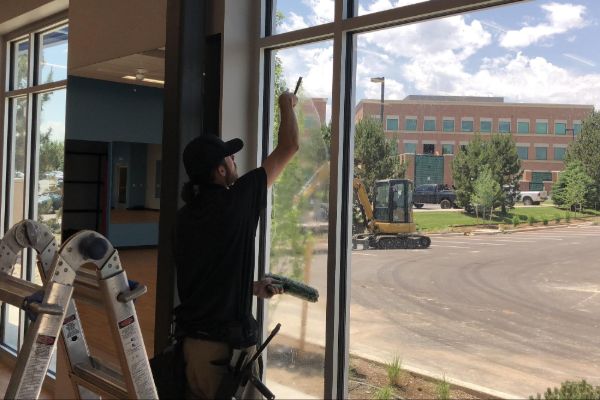 Why Choose Our Fort Collins commercial Cleaning
Many of our clients have utilized their staff in the past to do their own in-house maintenance trying to handle their property's exterior washing needs. They soon learned a number of valuable lessons. Their staff neither had the training nor the equipment to complete the job safely and efficiently. Time and money were wasted supervising the work of employees and paying for an ill cleaning job. Even worst some businesses went to the trouble of investing in equipment, wasting valuable resources that clearly were better spent elsewhere. Most came to the same conclusion this is a job for professionals, that are licensed, trained, equipped, and insured for the job and they could have saved themselves a lot of hassle by hiring a professional power washing company to get the job done quickly and efficiently. If your commercial premises are in need of some TLC contact our team today by calling us or filling out a personalized quote form. We look forward to working with you on your cleaning project and getting your business in prime shape!
Ready To Rejuvenate Your Home?
Our Core Exterior Cleaning Services